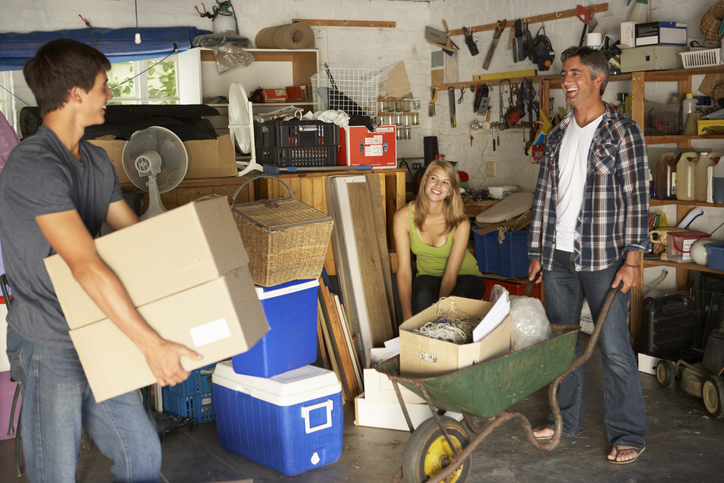 Garages have a way of collecting all the clutter and junk of living over time. And perhaps you're one of the many people who mean to get to it but never seem to. Many people struggle with the challenge of organizing their garages. On the one hand, it's important to store and keep things for occasional use. Conversely, the garage can also become too cluttered to use properly. Try these helpful tips to clean and organize your garage.
Ask for Help
Often, the task of tackling the garage feels overwhelming. If you keep putting it off, or if you need to move a lot of things, ask for help. Of course, getting everyone helping you on the same page is essential. Then you can let others help sort stuff into keep, throw, or donate piles. And if many of the items belong to family members, having them help decide what happens is crucial.
Take It All Out
The biggest step in garage decluttering is to take everything out of the garage. This part can be daunting, so getting help from others is key. However, you can thoroughly clean the space by removing everything from the garage. Then you can sort through the items more efficiently. For instance, you can make piles depending on the final result. You can have a pile for trash, recycling, keeping, or donating.
Check for Damage
You may have areas in your garage that need repair. But it could be difficult to detect damage with tons of stuff. Once everything is out and you clean, you can see any damaged areas better. For example, check for termite damage and activity. In addition, inspect any areas that seem damp or discolored since you could have a water leak. If you have shelving, ensure they are in good condition, and the lighting works. Finally, check your garage door and doorframe.
Shelves and Organization
Sometimes the problem isn't having a lot of stuff. It could be a storage issue. Look at how you were using your garage space before. Perhaps you could install some shelving, cabinets, or pegboard. Or, go up for additional space and add hooks for hanging things. Many people have small garages. It's essential to consider how you can use the space most efficiently. And better storage also helps prevent damage to your things.
You might also like: Stress-Free Hobbies To Increase Your Brain Power
Have a Sale
If you have a hard time letting go of things you don't need, a garage sale can help. One reason why many people keep things is that they have invested in them. A garage sale can help recoup some of that investment and make it easier to let go. And the extra money could help pay for the necessary storage tools to keep your garage in great shape.
Disclaimer: The stock image is being used for illustrative purposes only, and it is not a direct representation of the business, recipe, or activity listed. Any person depicted in the stock image is a model.