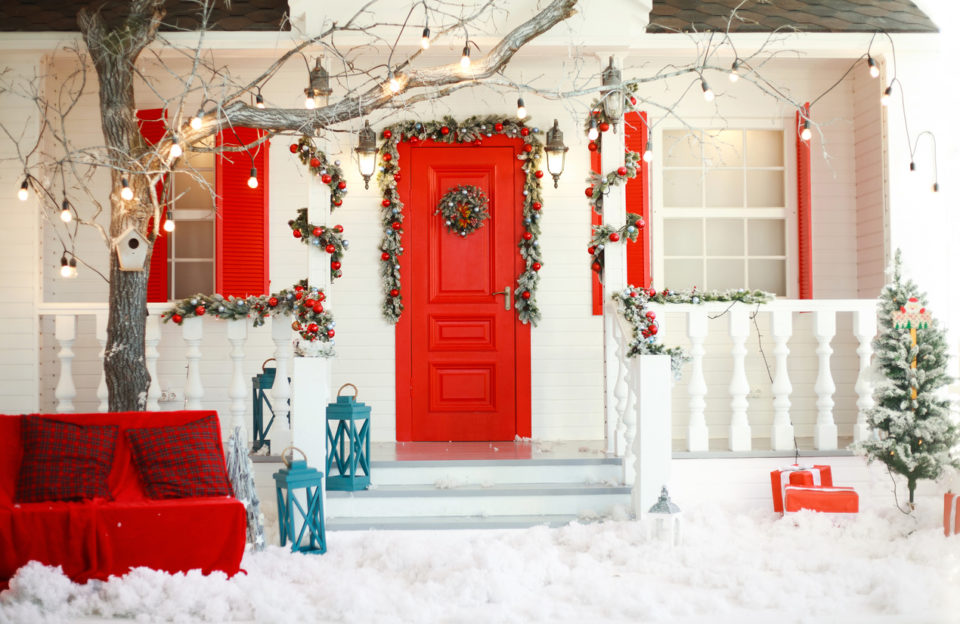 There's no better way to show off your decorating skills than by covering the outside of your house! This is a surefire way to get everyone in your neighborhood to look at your house. Spice up your home by decorating the outside to match the inside. Here are five different outdoor holiday decorating ideas that are sure to turn heads towards your home!
Ribbons
Get yourself a couple of rolls of jumbo ribbon from your local craft supplies store. Wrap the ribbon all over the stuff you have outside. Cover your porch rails or columns. Cover the hand rails by your outdoor steps. Cover your basketball goal. Cover your mailbox. Use it to give your front door a gift-like look with stripes and a giant bow!
Red Hot
If you've been looking for an excuse to paint your front door, here it is! Grab some red outdoor paint and some brushes and get to work. Your new red front door will be the statement piece to your fully red outdoor decorating style. Use red ribbons and red over-sized ornaments to bulk up your outdoor décor. Try to find yourself a little red wagon, a red snow sled, and a pair of red ice skates to add to your outdoor décor collection.
Natural
The minimalist natural look is definitely popping off in style these days! Cover your outdoor garland with pinecones, holly berries, and acorns that you can find outside your home! Get yourself some live poinsettias and baby fir trees to lace alongside your walkway. Surround your door and wrap your porch rails/columns in garland. Use multiple natural-looking wreaths on your door as well to really tie in the natural feel!
You might Also Like: Make Your Holiday Cooking Easier With These Tips
Lights
Outdoor lights are a classic holiday decorating style. Cover every surface of the outside of your home in sting lights to really light up the street! You can keep it classy by only using white lighta or spice it up with colored string lights! Utilize yard inflatables to really pump up the fun!