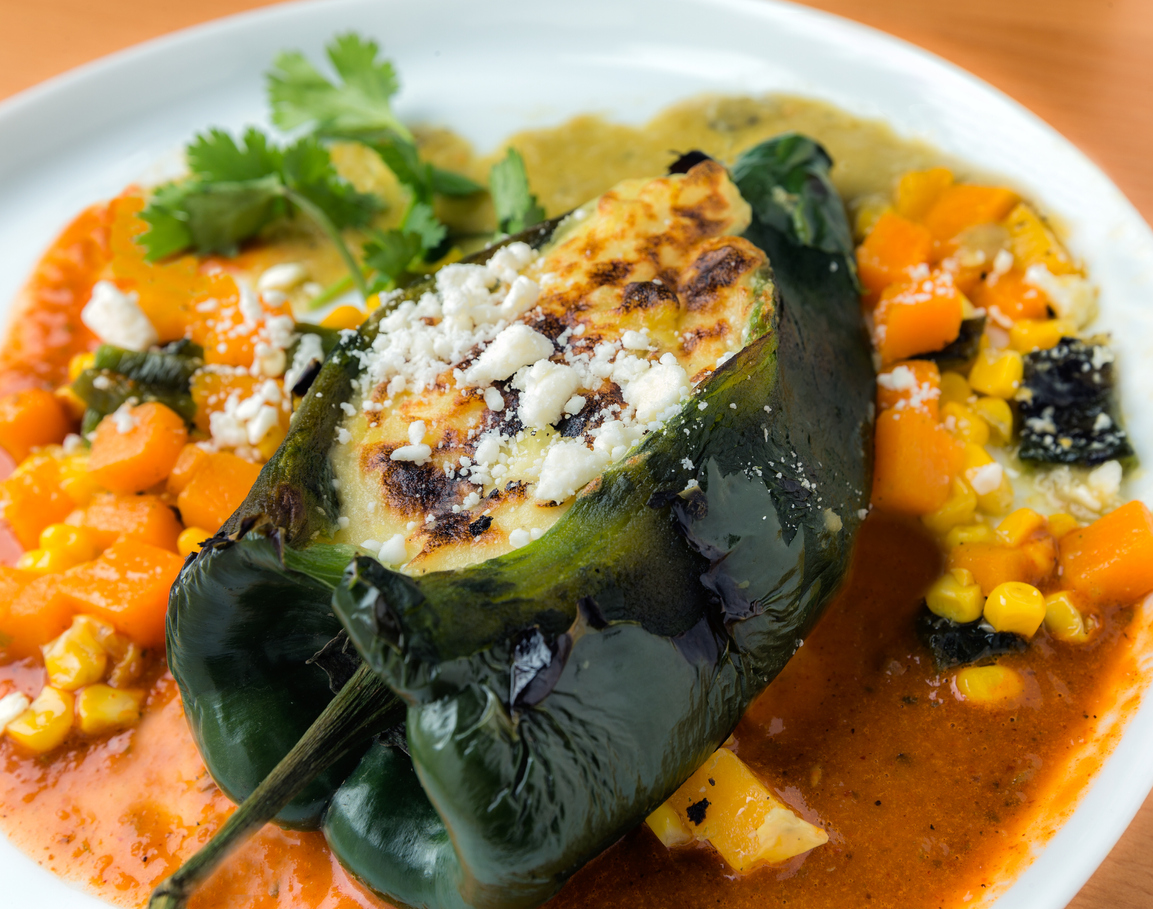 If you love Mexican food, Cinco de Mayo might be one of your favorite holidays. It's an excuse to devour all of your favorite dishes, and the spicier, the better. While you've likely had some memorable meals in the past, these poblano recipes are on another level. Thus, kick your celebration up a notch by adding them to your menu.
Chile Relleno
You can bring the heat and lots of other flavors by making Chile Relleno or stuffed poblano chiles. These chiles are stuffed Tex-Mex style, complete with pecans, raisins, and sirloin. With so many ingredients, it's like a full meal in a single pepper. Of course, you won't want to stop there, so be sure to save some room for the other dishes on the menu.
Authentic Mole Poblano
This recipe for Authentic Mole Poblano is next on the list, and let's start with a word of caution. It requires 45 minutes of prep work, so this is a bit of a culinary challenge. However, your time and effort will pay off in dividends when you take that first bite. The complex flavors are like nothing you'll find in other meals, so you'll be happy you took the time to make it.
After you finish cooking, you can spread the sauce on any meat of your liking. It's best when paired with wild game, such as quail or duck, but that type of meat isn't for everyone. Nevertheless, you can still have quite the meal when putting the sauce on top of some chicken. The sauce is the star here, and the meat is a secondary character. It still plays a vital role, but the sauce is what's coming back for a curtain call and standing ovation. It's a real showstopper, so you'll want to set aside some time to prepare it.
You might also like: Pair Your Diploma With A New Honda
Chalupas Poblanos
Cinco de Mayo won't be complete until you dig into Chalupas Poblanos. Unlike the other recipes, this one doesn't include poblanos. Instead, the iconic Mexican street food contains salsa, queso, chicken or pork, and other ingredients swapped in a corn tortilla. But since you're the chef for the day, you can add a hot chili or two if you want to increase the heat. Plus, you can make things spicy with hot salsa. With so many choices, it's easy to generate the heat you want when making this meal.
With recipes like these, it's hard to wait for Cinco de Mayo to arrive. Fortunately, it's almost here, so you can grab the ingredients and get ready to prepare some food that'll be the talk of your celebration.
Disclaimer: The stock image is being used for illustrative purposes only, and it is not a direct representation of the business, recipe, or activity listed. Any person depicted in the stock image is a model.